KET productions and programs receive three Emmys
KET programs — including the long-running instructional current events series News Quiz — received three Regional Emmy Awards at the 51st Ohio Valley Regional Emmy Awards ceremony Saturday at Keeneland in Lexington.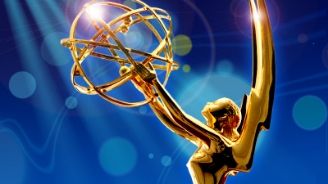 The winning News Quiz, episode, which received an Emmy in the informational/instructional program category, featured stories on President Obama's meetings with China on reducing greenhouse gases, the Rosetta Mission comet landing, and a prototype hoverboard. The series is produced by Brandon Wickey.
KET's A History of Kentucky in 25 Objects, produced and written by Barry Bernson, received an Emmy in the writer-program category. The film tells more than 1,000 years of history, through Bill Monroe's mandolin, Col. Harland Sanders' original pressure cooker, and more.
Amy Hess, host of KET's Kentucky Collectibles and a contributing producer for Kentucky Life, received a program-hosting Emmy for her hosting roles with KET as well as her Beloved Productions program The Local Traveler, which airs on other Kentucky media outlets.
Longtime broadcaster and former Comment on Kentucky host Ferrell Wellman was inducted into the chapter's Silver Circle, which recognizes professionals who have made an enduring contribution to the vitality of the television industry and set standards of achievement. Wellman was capital bureau chief for WAVE-TV in Louisville for 18 years and taught broadcasting at Eastern Kentucky University.
"KET's talented staff allows us to continue our mission of bringing only the highest quality, engaging educational programming into homes, classrooms, and communities throughout Kentucky," noted KET Executive Director Shae Hopkins.
The Ohio Valley Region includes 13 television markets from a four-state region, including parts of Ohio, West Virginia, Indiana, and Kentucky.