KET productions win four 2014 Regional Emmy Awards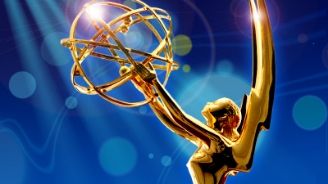 KET productions detailing the rich fabric of life in the Commonwealth have received four Regional Emmy Awards — the highest awards bestowed in the television industry!
KET Producer Tom Bickel was recognized for a program capturing the work of Kentucky writer and Affrilachian Poets founder Walker as he illuminates the life of 19th century African-American jockey Isaac Murphy with poetry and drama. Kentucky Muse: Frank X Walker: I Dedicate This Ride was honored in the Arts/Entertainment category. Watch it now!
KET's Kelly Campbell was recognized for his piece on world-renowned horse trainers Dan James and Dan Steers of Nicholasville. They were featured in the Kentucky Life segment Double Dan Horsemanship. The Double Dans specialize in "liberty" acts — guiding the horses through their moves without a bridle or halter. Their performances include Roman riding, where the rider stands astride a pair of galloping horses, with one foot on each horse's back. They also include fire routines and comedy shows. Watch it now!
Louisville Life producers Jayne McClew, Gary Pahler, and Angelic Phelps received Emmys for KET's weekly series bringing to life the cultural scene of the state's largest city. It won in the Nostalgia Program category and you can watch it here.
Tim Farmer received an Emmy in the Program Host/Moderator/Narrator category for his work as host of Kentucky Afield, the longest continuously running outdoor show in the nation. The program is produced by the Kentucky Department of Fish & Wildlife Resources and airs on KET and KET2. Watch now!
The Regional Emmys were given by the The Ohio Valley Chapter of the National Academy of Television Arts and Sciences and includes 13 television markets from a four-state region, including parts of Ohio, West Virginia, Indiana, and Kentucky.